Link
wcm/dialogs/components/richtext/ui/link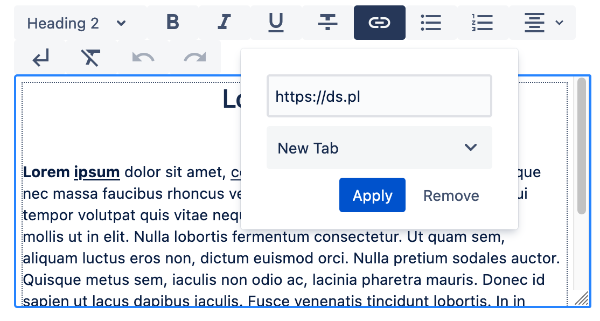 Description
Component dedicated for link plugin. It opens a dialog in witch author can add link and select target type.
It provides href and target properties to execute method.
It expects also both href and target properties returning from plugin getState method.
Configuration
title - string (required)
Action title. It will be visible in a tooltip. It also will be shown on button in case of lack of icon property

icon - string
Icon name. If set then button will be visible with defined icon. Available icons can be found in Material Icons font.
State
isActive - boolean
Defines if button should be checked as active.

href - string
Define link destination address.

target - string
Specifies where to open the linked document.
Children
plugin- node defines edit action caused by a button.
Example